---
The Benefits of Taking Up Model Building as a Hobby in 2019
by Katlyn Hudson
A hobby is defined as "an activity done regularly in one's leisure time for pleasure." From dancing to painting to 3D printing, there is something out there for everyone. One such hobby that has been in practice for decades is scale modelmaking. Whether you want to build a bridge, a residential structure, trackside structures, or something else, the possibilities are truly endless. For those who are in search of a new hobby for the New Year, modelmaking delivers a list of exceptional benefits that extend beyond the immediate fun it provides.
Creativity is beneficial for your health and wellbeing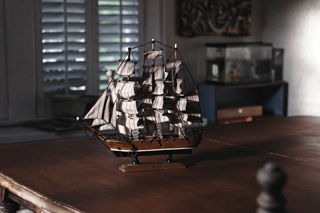 Studies have found that creativity of all kinds, including drawing and art, singing, and modelmaking, can actually improve your health and wellbeing. In fact, creativity has been linked to decreased stress levels, reduced anxiety, enhanced self-confidence, and personal growth. While many individuals may not immediately consider modelmaking to be a "creative" habit, there is absolutely an art to creating the many kinds of structures available. Rather than simply putting together a building and leaving it be, many hobby modelmakers develop miniature cities and scenes around their models.
Having a hobby can decrease stress
Hobbies aren't just for leisure and entertainment. In fact, researchers have found that individuals who have one (or more) hobbies reap specific benefits as a result. One particular benefit that you can expect to see as you take on modelmaking as a hobby is decreased stress levels. Why are hobbies so effective in reducing stress experienced? They provide a break from work and daily stressors, create feelings of accomplishment, and can help build social connections with those who share hobbies.
Scale modelmaking can boost mental health
Above and beyond other hobbies that one can choose, experts tout the mental health benefits of scale modelmaking. One study published by AARP shows that this specific activity "enhances certain cognitive skills such as concentration, visual-motor skills, and executive functions [processes the brain uses to plan, organize, strategize, and pay attention to and remember details]." At any age, keeping the brain active on a regular basis is crucial. Those who engage their brain often can improve their memory, enhance concentration and focus, quickly grasp new ideas and concepts, and decrease the risk of developing chronic conditions such as Alzheimer's disease.
Start 2019 off by taking advantage of all of the benefits of scale modelmaking. In addition to the reward and fun it provides, this single activity can enhance your health, wellbeing, and overall quality of life.
Interested in miniature model making? Scale model plans for HO Scale , N Scale, OO Scale, and O Scale model railroad buildings and structures. Create realistic, inexpensive scale model buildings for your model railroad layout, diorama, or toy train set. Build to accurate scale with Computer Aided Design miniature plans or simply cut out the traceable templates. As an added feature, you can print out color patterns to card stock to create paper models of buildings and structures. If 'kit-bashing' is more your style, try customizing, or combining patterns to create a unique scale model structure. View our on-line catalog of HO and N scale plans to get started on your next building in scale project. Beginners Welcome!
© 2022 T. Carson Contact Webmaster