Welcome to
Connect with Us:
Please allow Pop-ups from ScaleModelPlans.com in order to fully utilize our website
Making Glitter Houses (part Two):
This is Part Two of a tutorial designed to help with construction of Plan 1226, Glitter Houses.

Introduction:
This project is different than the regular projects featured on ScaleModelPlans.com in that they are imaginary structures, and not modeled after existing buildings. They are also designed to be relatively simple to construct, but if working as a family, please make sure that only the adults use the sharp tools.
---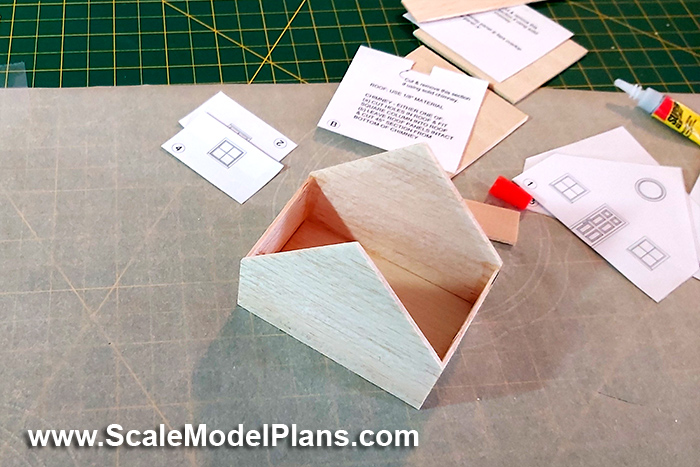 Individual plan sheets may include specific pointers or suggestions, but you are generally ready for the roof at this point.
---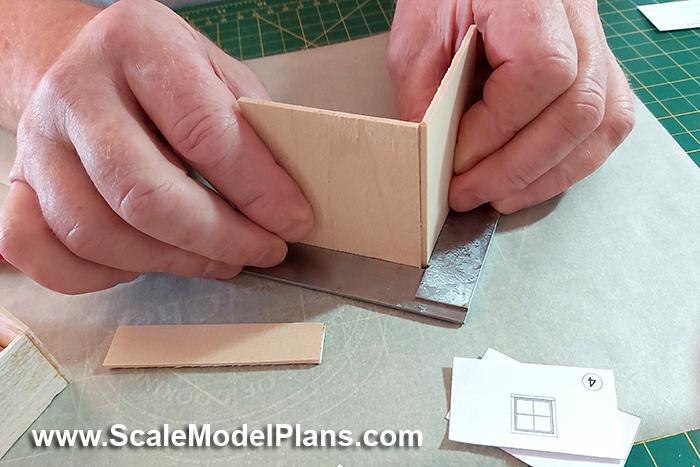 Some of the structures have 12:12 pitch roofs, which means a 90 degree angle. You can use a metal square to align and hold the roof halves together while the glue sets.
---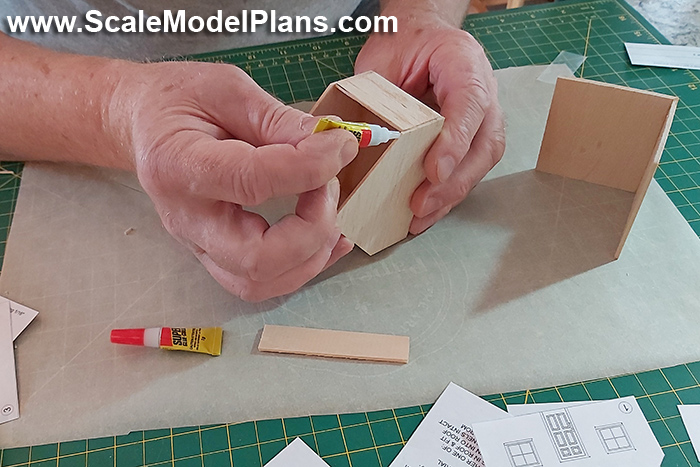 Test fit the roof to the walls first. If the fit looks good, run a bead of glue along the top edges of the walls.
Carefully align the roof to the wall assembly, making sure that it is centered on the walls. Once the pieces contact each other, you may not get a second chance to make an adjustment. If you make a mistake it is sometimes possible to separate pieces with a reinforced razor blade or hobby knife, but it's best to try to be right the first time.
---

This is the complete assembled set of structures from Plan 1226S. The roof of the store has been left off until after painting and attachment of the windows, but it is not necessary.
---
---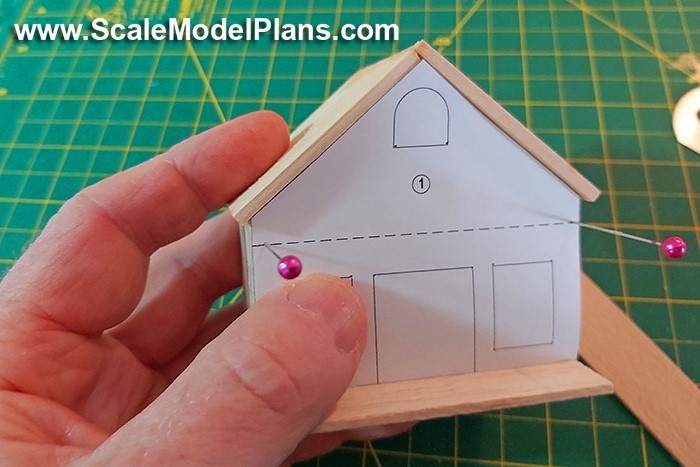 Some of the models have a protruding front porch. The position of the porch roof is indicated on the template. Use sewing pins to mark the location of the porch roof.
---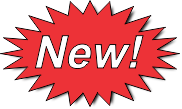 Visit our News Page for monthly discounts on select plan packages.
Up to 15% off!
---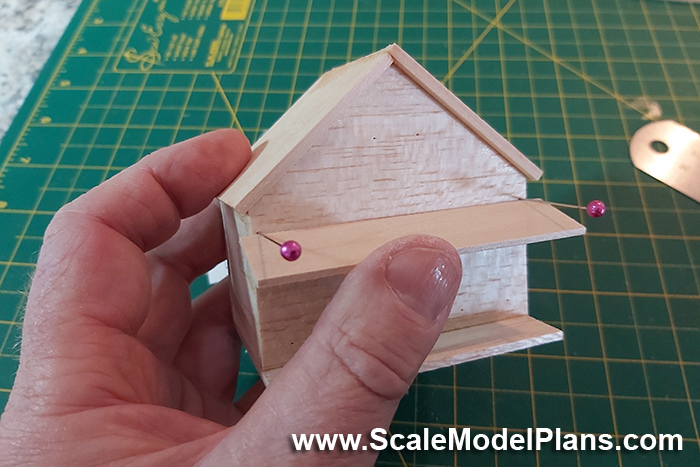 With the template removed, re-insert the pins, where they can be used to locate and steady the roof panel while gluing.
---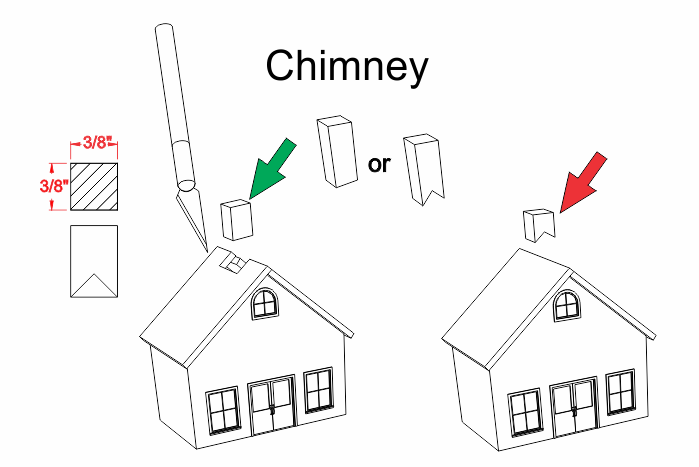 The plans suggest two methods of creating the chimneys. The example on the left, (Green), involves cutting into the roof panels, but will provide a stronger support if used as a Christmas Tree ornament.
---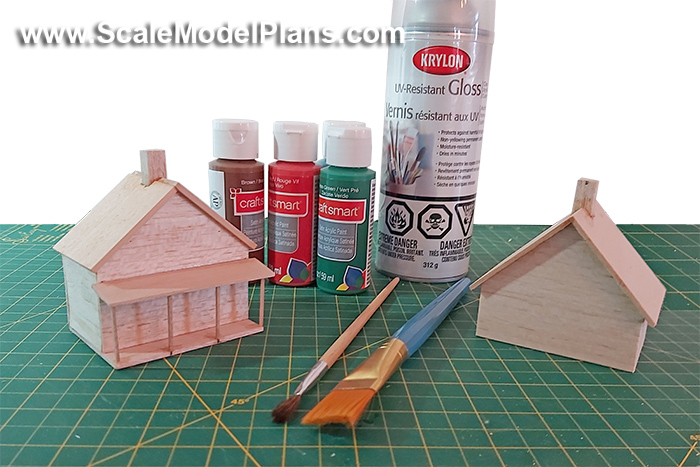 Acrylic craft paints are ideal for this project. They are available in numerous colors, and the thicker pigments and thicker consistency works like a wood filler for small cracks and imperfections in the balsa wood. Drying time is also very good.
---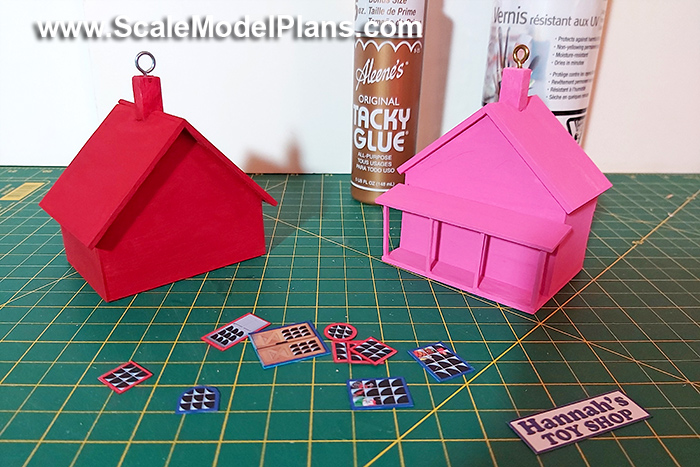 If you lightly sand after the first coat you will get a much smoother surface on the final coat.
Cutting out the windows can be done with scissors, or with the help of a steel ruler and hobby knife.
You will notice on the sheet of windows and doors that, where possible, the edges are aligned to facilitate using a knife and straight edge to cut them out.
---
---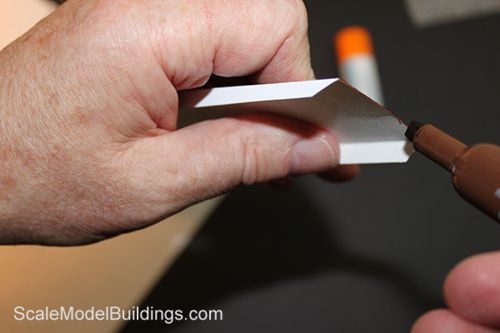 This is a trick borrowed from our Cardstock Construction Tutorial. Use a felt pen of matching color, (red, blue, green), to color the white edges of the windows and doors. Even though the white edge is only paper-thin, it will show significantly in your finished project. The felt pen makes a huge difference.
---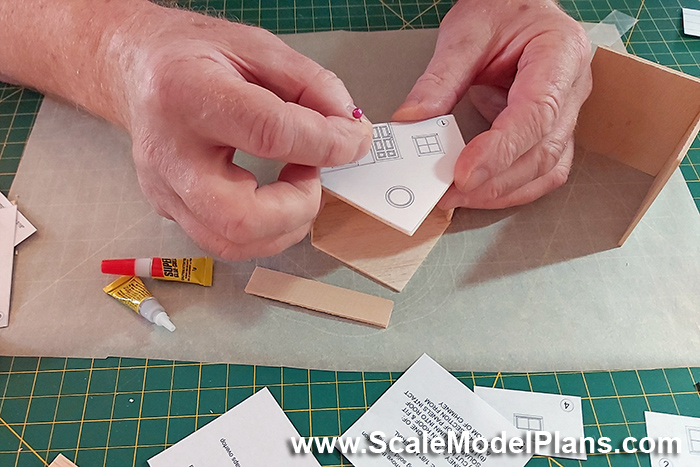 This is probably best done after painting, but you can use the wall templates to poke location holes for the windows and doors. If you poke one hole at each corner of each door and window it will be much easier to place and glue the windows in the proper location.
---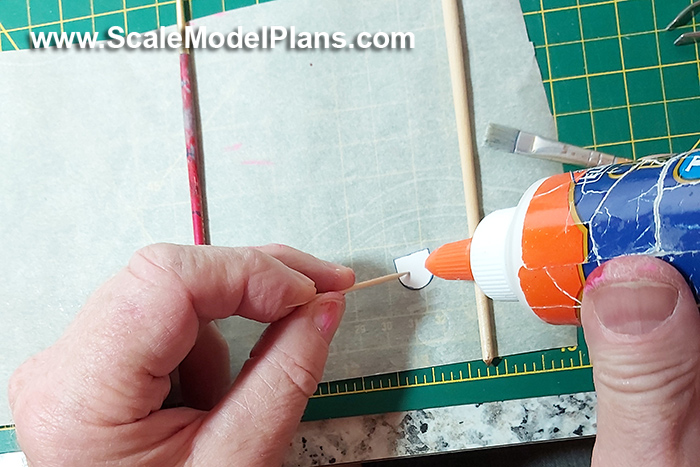 Use craft glue for the windows. CA glue will bleed through and darken the images.
The tiny windows can be held it place while gluing, by using a tooth pick or the handle end of a small paint brush
---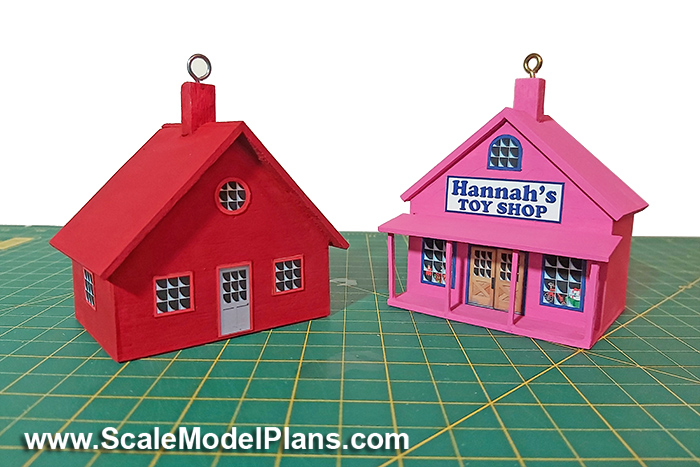 Make sure that the 'snow' in the windows is facing the same direction.
The eye hooks will be used to hang the ornament from the Christmas tree, but are also useful to hold the project while finishing.
---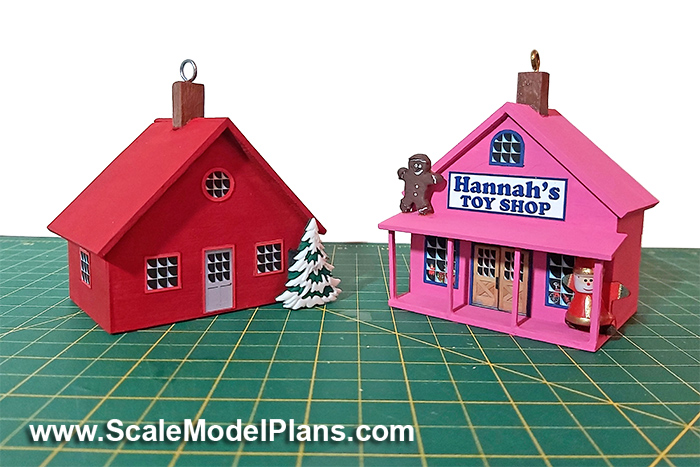 I found these tiny Christmas decorations at a dollar store. You can also find Christmas theme plastic buttons at some sewing stores. You can attach them with CA or craft glue.
---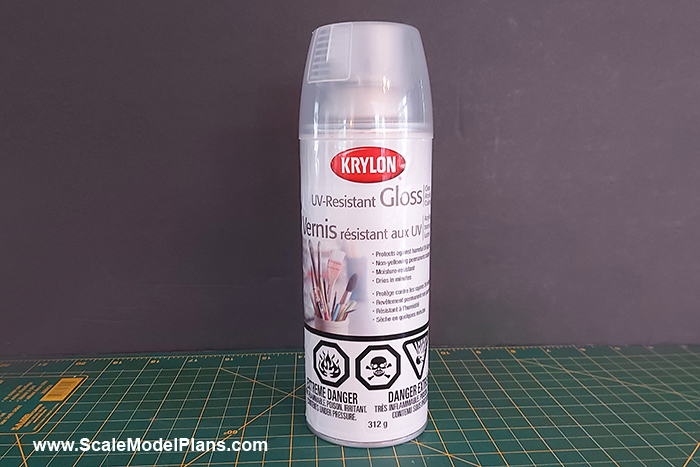 The final step is to apply the glitter.
Fixative is generally used to protect drawings, paintings, and other artwork from fading due to UV rays. It is also used to provide a level of moisture protection on cardstock (paper) models. In this case, it will act as the adhesive to attach the glitter flakes. Use Gloss and not a matte finish.
Find a well ventilated area, and lay down any protective mats or drop sheets to catch the over spray. Spray a wet coat on each exposed surface of the glitter houses. Try for as thick a coat as possible without getting any runs.
---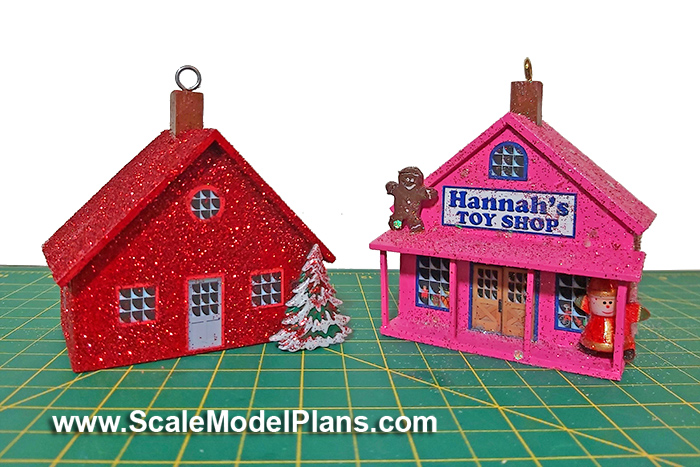 Using the chimney as a handle, sprinkle an even coat of glitter on each exposed surface. Shake off any excess flakes. You can collect and reuse these later.
Before the glitter has a chance to dry, use a stiff paint brush or your fingernails to wipe off any glitter covering the doors and windows.
Allow to dry, and spray a final light coat of fixative to secure the glitter flakes in place. Too thick of a coating may take away some of the sparkle of the glitter flakes, so you want just enough to prevent the flakes from coming off when handling the glitter houses. Its a good idea to practice on a scrap piece first.
---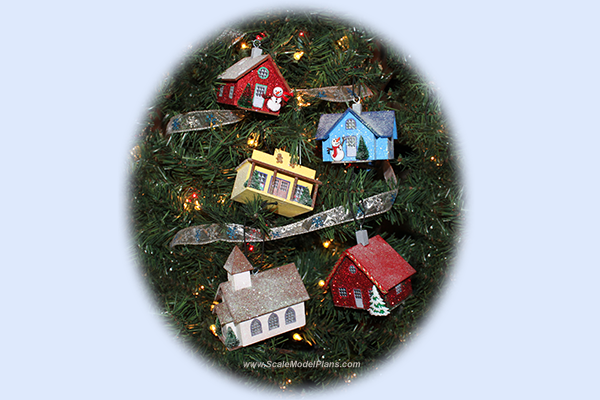 Your glitter houses can be used as a mantle top display, or hung on a tree as ornaments.
---
---
---
of N Scale and HO Scale plans, templates, and Cardstock patterns, then click to order the printable PDF files so you can get started on your next project.
Information provided in these tutorials is for informational purposes only. Owners of this website offer no guarantees and assume no responsibility or liability of any type with respect to the content of these tutorials and will not be held liable for any damages or injuries caused by using or misusing the information on this site, and anyone using these methods does so at his/her own risk. By viewing these articles you agree that you will not hold, or seek to hold, Owners of this site responsible or liable with respect to the content of this site. Processes illustrated on this website should not be undertaken without a complete understanding and knowledge of the safe and proper use of all related tools and processes.
Contact Us © 2022 T. Carson Legal