Modellers and hobbyists often develop their own styles and methods, but we'd like to share with you some of the techniques that will help you to achieve success in constructing from our plans sets.
---

Although this isn't a scratchbuilding tutorial per se, this help file might help take the mystery out of buying online and the downloading process.

---

A step by step guide on using either of the card stock options of ScaleModelPlans.com plan packages.

---

Video tutorial on cardstock construction.

---

The EASY way! (FREE Template download) Use the downloadable template to cut out window and door openings.

---

A simple tutorial on making your own "ship decking".

---

A listing of available door and window sizes to help you choose and order pre-made scale doors and windows for your model.

---

Can't find the windows or doors you need? It might be possible to make one.

---

There is an easier way to install electronics, and is included in your plans.

This is a supplement to Plan 1515, the Stardust Drive-In, which uses a standard 7" or 10" digital photo frame to create a dynamic drive-in theatre.

---

Gable decorations can be ordered through suppliers listed on our Links page, but this brief tutorial shows an easy way of making your own.

---

This tutorial shows you how to make Christmas Glitter Houses using our Plan 1226S.

---

---

Butt joints are a lot easier than mitred corners, but don't look as realistic. Using "corner boards" can simplify the process while at the same time, adding interesting and authentic detail to your model.

---

Includes Link to free building plan.

---

Model Builder software allows you to create and print out your own cardstock structures. Each of our Plan Packages include template files that import into Model Builder to allow you to easily create your own custom version of our catalog plans.

---

Post and Beam, or Timber Frame construction is a very suitable method of model building when you want to show an authentic looking interior of a model structure. Most of the plans from www.ScaleModelPlans.com can easily be adapted to post & beam construction.

---

An experiment in recycling - making a quonset hut from tin cans.

---

Make your own realistic looking shake roof using wood veneer and a standard paper cutter. It's easier than you might think!

---

Make your own realistic looking shake roof using wood veneer and a standard paper cutter. It's easier than you might think!

---

If you've assembled kits before, why not take the next step? Choose either the scaled plans or traceable templates, both are included in our plan packages.

---

This is a three part video on scratch building, applicable to building with styrene or scaled lumber. It is based on Plan 576.

---

A tile saw conversion.

---

---

A handy cross reference chart for various scales and manufacturers of plastic doors and windows. Also, hints for using HO scale windows in N scale models, etc.

---

This tutorial was designed for Plan 2455, the East Broad Top Railroad Blacksmith Shop, but comes in handy for other projects as well.

---

ScaleModelPlans.com Template files can be printer-reduced to construct just about any common structure scale. The example to the left is a Z scale structure constructed using an N scale plan 1511.

---

If you have access to a table saw or band saw, with a bit of time and effort you can create many of the doors and windows for your G scale construction projects. This tutorial is intended to supplement the Construction Tips included with your ScaleModelBuildings.com Plan Package.

---

Following the plans from ScaleModelBuildings.com, this tutorial uses Coroplast corrugated plastic sheet as as inexpensive means of scratch building a Garden scale structure.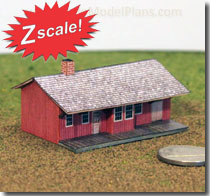 Looking for building materials? Check out Northeastern Scale Lumber Co.'s online store.
Did you know that you can "borrow" windows from another scale? Check out our Window Cross-reference Chart to find close alternative to the windows you might be looking for.
Plan packages now include importable WMF files for Model Builder software. View the tutorial on integrating ScaleModelPlans.com templates with Model Builder to create realistic structures using cardstock or matte photo paper.
Interested in Z, S, or T Scales? Click here for information.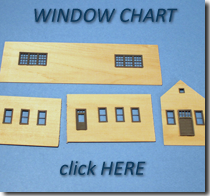 of N Scale and HO Scale plans, templates, and Cardstock patterns, then click to order the printable PDF files so you can get started on your next project.