Welcome to
Connect with Us:
Please allow Pop-ups from ScaleModelPlans.com in order to fully utilize our website
How to Put Corner Boards on Horizontal Siding::
Sometimes you get lucky, and the most dramatic effect can actually take less effort than a simpler, more basic look. In my opinion, this is the case with corner boards as opposed to mitered corners on horizontal siding.
Horizontal siding from Northeastern Scale Lumber Co. looks very realistic when mitered corners are used, but cutting 45 deg. angles on small pieces can be tricky. A "corner board" trim look is easy to do, and really adds to the appearance, particularly if you are going for a Victorian look.
1/16" x 1/16" wood strips scale to approximately 5 1/2" in H.O. For N scale use 0.040" material, also available at Northeastern Scale Lumber. The face side would represent nominal 6" corner boards, which was quite common trim for horizontal siding.
---
* Use this tutorial in conjunction with the Construction Guide included with your plan set.
If you don't have 1/16" x 1/16" wood strips you can make your own from sheet material. Try to cut into perfectly square dimensions, (ie. 1/16" x 1/16"), as two adjacent sides will be showing after assembly.
Use the following procedure to get uniform width pieces:
---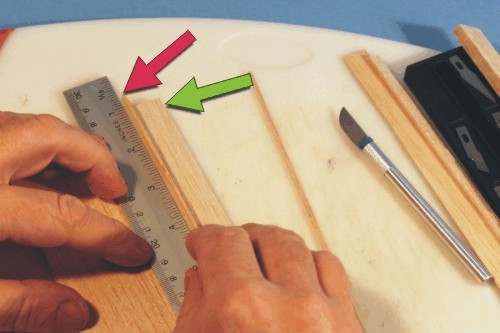 ---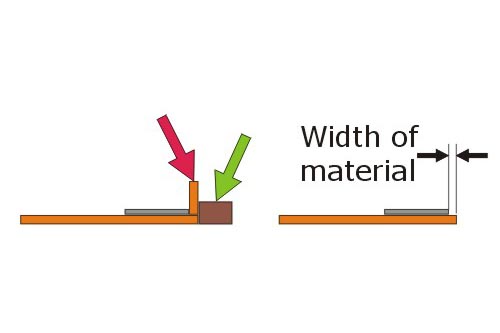 Maintain firm downward pressure on the straight edge and remove the spacer and backer board.
The exposed surface should be equal to the thickness of the material.
---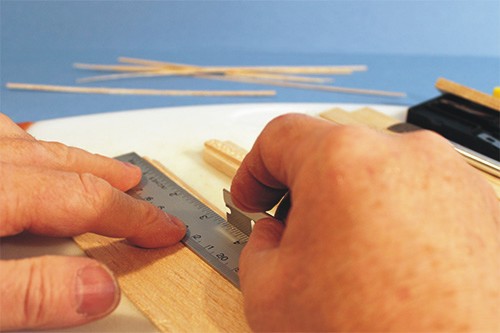 Use a hobby knife or razor blade held firmly against the straight edge.
In actuality, the resulting strips may be thinner by the an amount equal to half the thickness of the cutting tool. If more precision is needed try taping a paper shim to the spacer to increase it's width.
Cut more strips than you plan on needing so that you can pick and choose the best ones.
---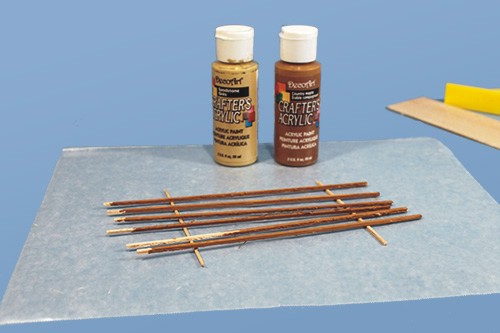 Give the strips a light base coat of paint.
The first coat of finish on a wood surface will cause the tiny fiber ends left over from sanding to stick out when the paint dries, but this is what you want to happen.
A very light sanding will cut off these stray fibers, providing a much smoother surface for the finish coat. You may not even need a second coat, depending on the appearance you're looking for.
---
---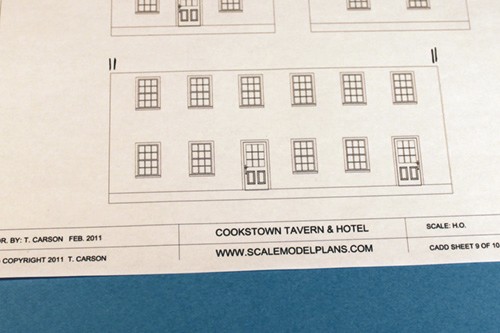 Remember to deduct the width of the corner boards from the pattern/template length of the walls, and mark the templates. Two corner boards could add 1/8" to the length of a wall.
Don't worry if you forget! The worst case scenario is that you may have to increase the size of the roof to get the required roof overhang.
---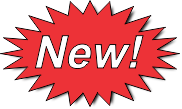 Visit our News Page for monthly discounts on select plan packages.
Up to 15% off!
---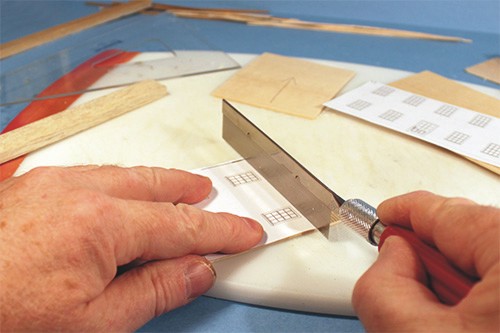 Lay the marked template onto the siding material.
Line up the razor saw with the edge of the template, and draw back slightly to mark the cut line.
Replace the template with a straight edge and complete the cut.
Refer to ScaleModelPlans.com Construction Guide included with your plans for more details.
---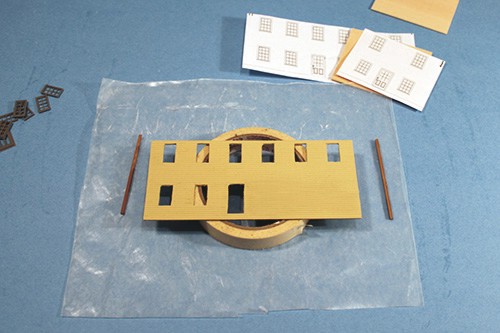 If you are planning on a different trim color from the main color, paint the walls with at least a light base coat prior to assembly. This is easier than masking later.
Paint at least a thin wash coat to the back side of each wall to prevent warping, and to stabilize the moisture content of the wood.
Cut the strips slightly longer than they need to be. Test fit them against the ends of the wall.
---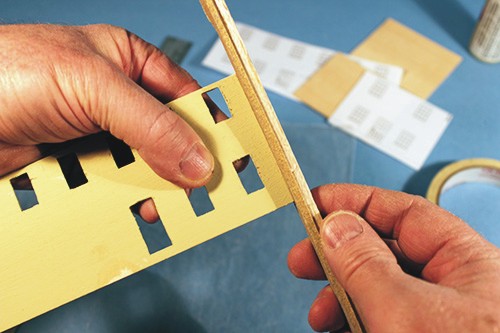 Block sand the wall ends and the corner boards mating surfaces to remove any imperfections.
---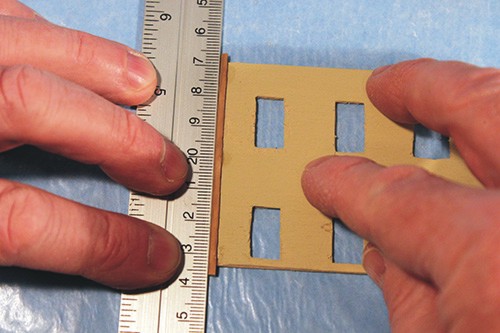 Clamping the corner boards would have a tendency to cause them to rotate slightly, so I chose super glue, without clamping.
Glue corner boards only to opposite - not adjacent- walls! (Because the boards have a square profile, each piece effectively does two).
---
---
---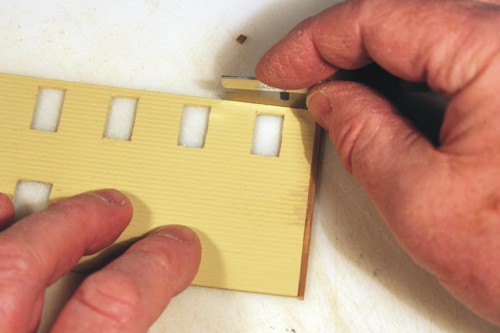 Once the glue sets you can trim the excess with a razor blade or hobby knife.
Use a sanding block to smooth out and create a uniform mating surface for the roof.
That's it! Assemble the rest of the structure as usual.
---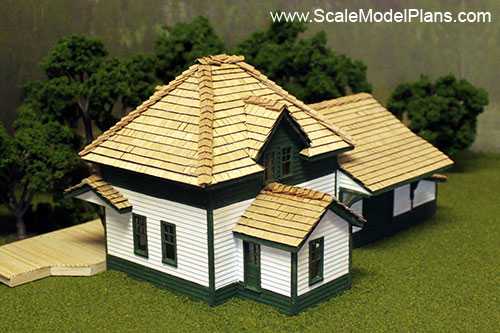 This is Plan 2008, a CN Train Station, typically seen across Canada and into Minnesota. The corner boards not only ease construction of the corner joints, but create a realist look to the lap siding. Click Here to see details of this plan.
---
---
---
of N Scale and HO Scale plans, templates, and Cardstock patterns, then click to order the printable PDF files so you can get started on your next project.
Information provided in these tutorials is for informational purposes only. Owners of this website offer no guarantees and assume no responsibility or liability of any type with respect to the content of these tutorials and will not be held liable for any damages or injuries caused by using or misusing the information on this site, and anyone using these methods does so at his/her own risk. By viewing these articles you agree that you will not hold, or seek to hold, Owners of this site responsible or liable with respect to the content of this site. Processes illustrated on this website should not be undertaken without a complete understanding and knowledge of the safe and proper use of all related tools and processes.
Contact Us © 2022 T. Carson Legal