Setting up ScaleModelPlans Templates For Model Builder ® software
.
Build Any of our plans easily and inexpensively - an alternative to wood or styrene construction. Please read on...
For licensed users of the Evan Designs Model Builder program:
Model Builder Templates are no longer sent with the main download files. Once you have downloaded your purchase from ScaleModelPlans.com you will automatically be directed by PayPal to a download link page to download your scale plans. You will also receive a 'back up' email link for an alternate download link in the event that you accidently close PayPal before being redirected. Also in this email will be a request button for the Free Model Builder template files. These template files, when available, are free to our customers at no additional cost. (Copyright laws still apply)
---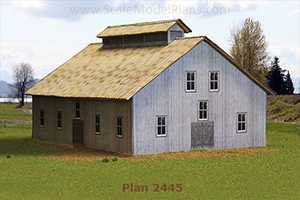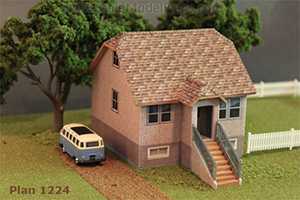 Model Builder Software takes cardstock modeling to the next level. The program allows you to build hundreds of realistic model structures for your layout using matte photo paper or cardstock. ScaleModelPlans.com now has available, with most plan packages, importable WMF templates to allow you to easily create any of our structure plans using the Model Builder software.
Model Builder comes with various resources to help you get started. Our tutorial is not intended to replace these resources, but rather to help you get started in integrating your ScaleModelPlans.com project with your Model Builder software.
If you have the Model Builder program and would like to try our MB template files click on the MB request link included in the email that follows your scale plan purchase, or click here to access the request form.

Where impractical for cardstock construction some plans will not include these templates. See catalog pages for details.
Use N Scale Templates for Z Scale construction
Your plan templates are supplied in either N scale, HO scale, OO scale, or O scale, but may be adaptable to other scales as well. Z Scale construction can be achieved using N Scale templates. Click Here for hints on printing to other scales.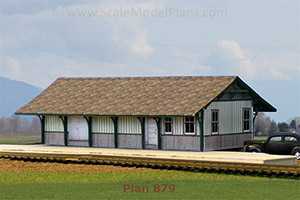 When you receive your ScaleModelPlans.com Plan Package you should create a new folder in which to store the files. Remember that the license agreement allows you to create multiple copies for your own use, (not to share or distribute), so you may want to try out various versions of each plan. You may want to build both a wood or styrene structure as well as a Model Builder version.
The Links & Tips page lists suppliers of cardstock, foam board, and other modeling supplies.
Once you complete your project in Model Builder, and print it out, you can refer to the Cardstock Modeling Guide included with your Plan Package for help in assembling it.
Model Builder templates are available for most ScaleModelPlans.com plan packages. Follow the link on the file download page after placing your order with us. Your MB template files will be sent by email.
---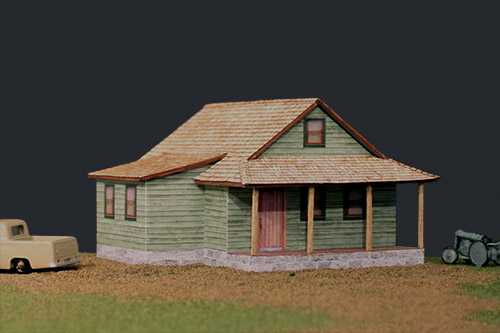 This model uses mat board as a base for the walls and the roof. Follow the procedure outlined in the Cardstock Construction Guide included with your plans.
Apart from the match sticks holding up the front porch roof, this house is 100% ink & paper!
of N Scale, HO Scale, OO Scale, and O Scale plan packages which include scaled plans, traceable templates, Cardstock patterns, and importable Model Builder templates, then click to download the printable PDF files so you can get started on your next project.
Information provided in these tutorials is for informational purposes only. Owners of this website offer no guarantees and assume no responsibility or liability of any type with respect to the content of these tutorials and will not be held liable for any damages or injuries caused by using or misusing the information on this site, and anyone using these methods does so at his/her own risk. By viewing these articles you agree that you will not hold, or seek to hold, Owners of this site responsible or liable with respect to the content of this site. Processes illustrated on this website should not be undertaken without a complete understanding and knowledge of the safe and proper use of all related tools and processes.
Contact Us © 2022 T. Carson Legal